#iGiveCatholic 2020 Arch/Diocesan/Foundation Partner Portal
This portal, exclusively for our arch/diocesan and foundation partners, will be a placeholder you can come back to for registration links, important details, documents, webinar recordings, webinar slides, communication examples, and other information for the 2020 giving day. We hope this can also be a place where we can share ideas and resources other dioceses or foundations are using to communicate, train, or promote #iGiveCatholic. Please check back frequently! As resources are available, they will be added here. If you don't see something you would like us to add over time, please let us know as this portal has been developed specifically for you.
NOTE: This page is hidden so bookmark this page! The resources provided here will be most pertinent to you and your internal team there at the arch/diocese or foundation. The Resources page that is most valuable to your participating organizations is still available publicly on the #iGiveCatholic website under Resources.
---
Timeline for 2020 
View complete timeline here: 2020 Timeline
NOW through November 30: Advanced Giving Day Phase
December 1: #iGiveCatholic on #GivingTuesday

---
2020 Partner Trainings
Kickoff (June 16, 2 pm CT)
Office Hours
Take the Office Hours Feedback Survey here! This helps the #iGiveCatholic team create and review the most valuable content for you and your team.
Session 1: July 14, 2pm CT
Session 2: August 11, 2pm CT
Session 3: September 15, 2pm CT
Session 4: October 13, 2pm CT
Session 5: Nov. 10, 2pm CT
Motivating  Organizations to Participate in #iGiveCatholic
Engaging Your High Net Worth Donors in #iGiveCatholic, with CAPTRUST

---
Sample Sponsor Packet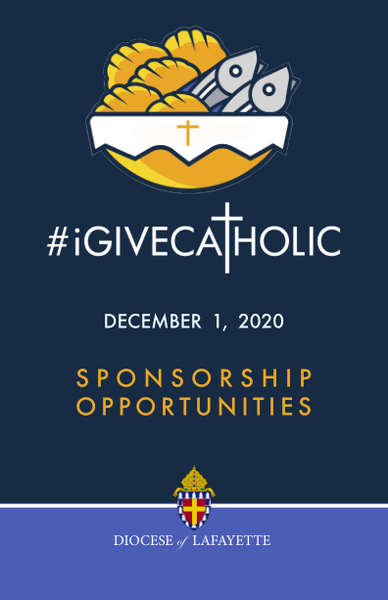 ---
Resources (2019 + 2020)
Here you'll find helpful resources that participating dioceses and foundations have found successful. We've also included some of our latest media releases. Please feel free to submit any other resources to Julie, julie@igivecatholic.org
Sample Calendar Timelines for Churches, Schools, and Nonprofit Ministries (Houma-Thibodaux)
Templated Communications - Parish Pulpit Announcement, Pastoral Letter (.docx file) (Houma-Thibodaux)
#iGiveCatholic Web Ads - Advance Giving / Day-Of (Atlanta)
#iGiveCatholic Participating Ministries Poster
Sample Banner Files - Anchorage (indd) / New Orleans (jpg)
#iGiveCatholic Ads from Partners - Washington 2019 (pdf) / Raleigh 2020 (pdf) / Lafayette 2020 (pdf)
Spanish #iGiveCatholic Ads - Vertical / Horizontal
English #iGiveCatholic Ads - Vertical / Horizontal
E-letter from the Diocese of Marquette creating social media blitz and chance to win dinner with Bishop
---
How-To's
---

Training Resources


Other Resources

---
Participant Resources
Weekly E-Blasts from #iGiveCatholic
E-Blast #1
|
E-Blast #2
|
E-Blast #3
|
E-Blast #4
|
E-Blast #5
|
E-Blast #6
|
E-Blast #7